ACADEMIC DIRECTOR'S WELCOME NOTE
Welcome to BRIGHTS International School!
Located in Istanbul, the vibrant city of cultural diversity, timeless charms, and blended tradition and modernity, BRIGHTS has become a reflection of the host land: One of Istanbul's pioneers in the educational arena.
Since it was established in 2019, BRIGHTS has set out its proactive plans for academic and professional distinction, with monitored academic programs, that pivot on differentiated instruction; holistically inclusive and interactive student induction; objective-oriented skill acquisition; balanced formative and summative assessment; paced skill reinforcement; and required remediation.
These programs work in tandem with our professional approach to our learning community, whereby students feel welcomed and find opportunities for authentic knowledge, self-expression, mental growth, and college and life readiness. At this point, both our Student Counseling and Student Affairs Departments accentuate the process, insuring a full cycle of communication, follow-up, and quality check on our students' evolutionary learning process.
With our students at the very heart of the learning process, then, our Kindergarten, Primary, Middle and High School Departments are so interconnected with a unifying vision and mission that yield equal learning opportunities to all our students.
BRIGHTS adopts an American curriculum that relies on Common Core State Standards for its core subjects and up-to-date curricula tools from authentic publishers and instructional technology providers so much so that our highly meticulous, regular book evaluation and selection process, as well as our employed instructional technologies, have become two distinctive features of our school's learning community.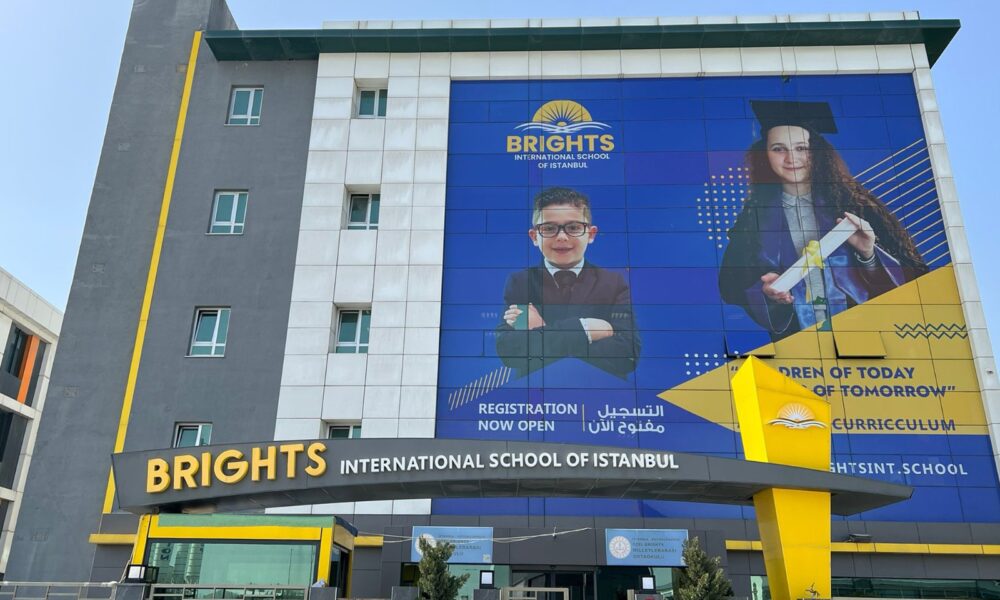 Using English as BRIGHTS' distinctive medium of instruction for a continually evolving world-class school, our students – guided by our professionally growing team of certified and highly qualified educators – not only excel in the acquired core skills of Mathematics, Sciences, and Social Studies, but also take further milestones enjoying the matchless experience of a spectrum of other school subjects, such Arabic and Turkish, besides Art, Computer, Robotics, and a wide array of high school college-required courses.
One landmark of BRIGHTS is its solid foundation on the ethics of respect, diversity, potentials fulfillment, and stakeholders' collaboration. This has been communally awarded through BRIGHTS' immediate earning of all required national licenses, as well as international accreditation from AIAA. At BRIGHTS, we have set plans for more accreditations too from other world-renowned accreditation organizations.
BRIGHTS, then, has spread its Istanbul-Worldwide wings for more academic distinction, professional growth, continual improvement, and unique learning experience… Join it today to cherish your tomorrow.
We invest in your trust.
Regards,
Mission
We foster a multicultural learning environment through implementing internationally
recognized curricula and instructional framework. Our accredited school system engages
learners through differentiated programs that pivot on well-defined standards, cater for
learner equity and inclusion, and rely on stakeholder engagement, co-curricular and extracurricular programs, and instructional technology integration, hence procuring learner's
healthy cognitive, interpersonal, and intrapersonal growth, and eventually ensuing
learner's college and career readiness.
Vision
At BRIGHTS International School of Istanbul, we strive to empower learners with academic
excellence and life skills, creating and sustaining globally competent citizens and cultivated
leaders.
BRIGHTS VALUES:
L oyalty: We nurture a community of professionals and learners who have pledged allegiance to
BRIGHTS' well-being and contribution to global community's growth
E ngagement: BRIGHTS' stakeholders interactively engage in a close-knitted community that is so
committed to serving its members the required quality education and support
A ccountability: In tandem with BRIGHTS' empowerment of its engaged stakeholders, our
community members take responsibility for their insightful decisions and actions
D iscipline: At BRIGHTS, we work, live, and behave in accordance with the set school system, local
laws, and international standards of responsible citizenship
E mpowerment: Every BRIGHTS community member is a leader whose actions cumulatively
influence the immediate and extended society
R espect: Respecting the other is the core value of BRIGHTS international, multicultural school
community, hence making our world trust-worthier, safer, and more communal
S trength: Our learners' physical strength arises from BRIGHTS' safe, healthy, and sportive
environment, and their mental agility sprouts out from their cumulative knowledge and experiences